Mantus Scuba System is designed to be compact, lightweight and portable. Our small scuba gear fits into a backpack (included) so you can have SCUBA GEAR with you on every adventure.  It is an ideal system for cruisers, live-aboards and is easy to travel with. The Mantus Mini Scuba System fits easily into small places on the boat and allows you hassle free diving for all your underwater projects. Feel the freedom of movement of a free diver while breathing comfortably. (Appropriate Scuba certification/training required for safe use) Mantus Scuba Pack with small scuba gear features:
MANTUS SCUBA PACK FEATURES:
3.5 Liter Aluminium Tank
Can be pressurized to 3000 PSI
First Stage Yoke Regulator
Classic piston regulator with the maximum working pressure of 3500 psi (232 bar)
Second Stage Regulator Main
Non-adjustable second stage
Comfortable silicone mouthpiece
Second Stage Regulator Spare
Underwater pressure gauge
Light weight and Ergonomic Harness
Back Pack
Heavy duty, features drain holes for storing wet gear and a water proof compartment.
Mantus Scuba Pack
Mantus Scuba Pack includes a mini scuba system that was designed to be lightweight, compact and very portable to allow you to scuba when and where you want.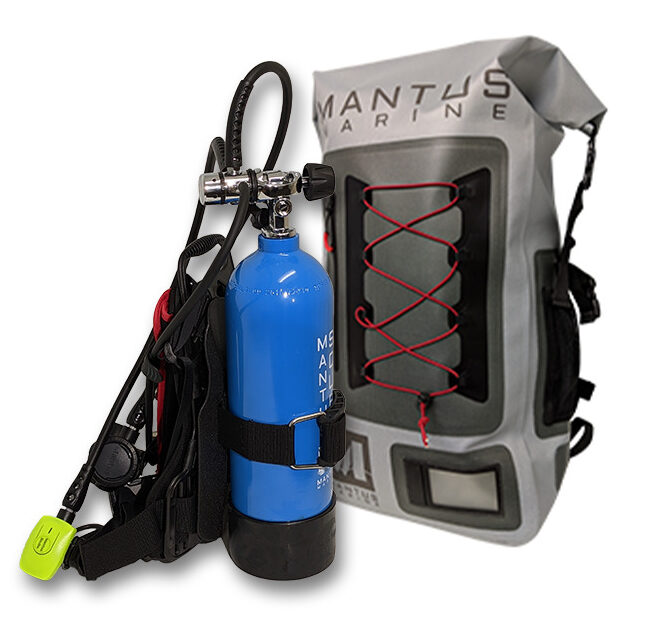 CALL US WITH ANY QUESTIONS:
WITHIN THE US: 1-855-262-6887
BEYOND THE US: 469-226-3468 / 469-878-4083
More Mantus Products